United States Armed Forces
The United States Armed Forces are made up of the six service branches: Air Force, Army, Coast Guard, Marine Corps, Navy, and Space Force. There are three common categories of military people: active duty (full-time soldiers and sailors), reserve & guard forces (usually work a civilian job, but can be called to full-time military duty), and veterans and retirees (past members of the military). We cannot forget the millions of family members and friends of military members, past and present. Through illustrations and activities, the U.S. Armed Forces Coloring & Activity Book aims to inform its readers about the United States' military and its ideals and values.
Approved by teachers and educators, this coloring and activity book is a great gift for any student or classroom to learn about each branch of the Military. Get a copy for your group, school or student today!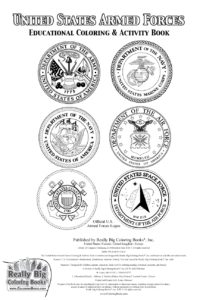 Really Big Coloring Book
Really Big Coloring Book® are notebook-style with a colorful plastic spiral binding. With at least 44 pages in every book, any reader and young artist will have hours of coloring fun with games, puzzles, mazes and connect the dots, word search. The heavy chip board backing makes it easier to draw and color on any surface. This is a perfect coloring book for entertainment and education on a plane, train or in an automobile.
These fun United States Armed Forces Really Big Coloring Book are 12" x 18" with a high quality full color card stock cover. Each inside page is a high-bright, white paper that children can use crayons, colored pencils, magic markers and even water colors on! The pages are perforated and the chip board back of the book can be used as an easel!
Really Big Coloring Book® are all 12″ wide by 18″ high and will keep a child entertained for many hours. We manufacture kids coloring books at the best competitive rates. We participate in Green Technology that is friendly to the environment!
United States Armed Forces Coloring Book
Check Out United States Armed Forces Coloring & Activity Book. Click Here.
Check Out United States Armed Forces Travel Tablet Coloring Book. Click Here.
Click Here for Private Labeling
Need Placemats for your next Event or Birthday Party? Click Here.
Check Out United States Armed Forces Colorable Posters. Click Here.
Coloring Books designed to make your business money. Here you can purchase one (1) copy or a truckload.
Manufactured in St. Louis, Missouri USA.